Mini loader Kombi 2 - 3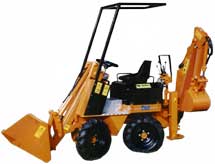 Series of compact 10 to 15 kW motorized mini-loaders with steered wheels or skid steer. With these machines, you can opt to mount the excavator instead of the loading shovel, or to mount it on the back. In the latter case, the machine becomes a mini-backhoe loader.
Loader-excavator Kombi 1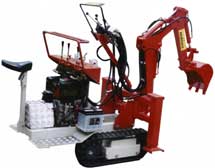 Small multifunctional 5.5 kW motorized machine with track that can mount an excavator, loading shovel and body to become a mini-transporter. User may walk behind or ride whilst operating.
Mini loader Kombi 0.5
Motorized mini-excavator from 5 to 6 kW with 2 driving wheels, walk-behind model with hydraulic stabilizers. Variable excavation depth from 1.2 to 1.6 m, and 120° arm rotation.