Forest loaders
The range includes two series of loaders: the straight-arm series mod. KCF and CF and the folding arm series mod. KCF-R and CF-R.
A complete range of loaders to be mounted on any farm tractor and any trailer, designed to work under any conditions. They are made entirely in special steel ensuring them robustness and lightweight.
They are supplied with control valve with relevant valves, safety valves, oil pump and tank, log grab, and hydraulic rotator.
They can be supply eith:
Rotation of the arm 360° with opposed cylinders │ Stabilizers: hydraulic verticals or fold out │ Controls: from grow, from tractors, from own seat │ Arm: straight or foldable – fixed or telescopic.
Forest loader Series KCF

| | | | | | | | | | |
| --- | --- | --- | --- | --- | --- | --- | --- | --- | --- |
| Mod | | A | B | C | D | E | F | L | T |
| KCF 08 | mm | 1160 | 1900 | 1400 | 900 | 1300 | 1400 | 3300 | 600 |
| KCF1 | mm | 1100 | 1900 | 1400 | 900 | 1400 | 1400 | 3300 | 600 |
| KCF2 | mm | 1300 | 2200 | 1600 | 1100 | 1600 | 1500 | 3800 | 600 |
| KCF3 | mm | 1400 | 2500 | 1700 | 1200 | 1700 | 1600 | 4200 | 800 |
| KCF4 | mm | 1500 | 2800 | 1800 | 1100 | 1800 | 1700 | 4600 | 1000 |
| KCF 4/S | mm | 1500 | 3150 | 2000 | 1200 | 1800 | 1700 | 5100 | 1000 |
Lift capacity:
| | | | | | | | | |
| --- | --- | --- | --- | --- | --- | --- | --- | --- |
| Mod | | m.2 | m.3 | m.4 | m.5 | m.6 | m.7 | Max. |
| KCF 08 | Kg | 400 | 260 | | | | | Kg 240 - 3.3m |
| KCF1 | Kg | 420 | 280 | 170 | | | | kg 250 - 3.3m |
| KCF2 | Kg | 700 | 460 | 300 | | | | kg 360 - 3.8m |
| KCF3 | Kg | 840 | 550 | 425 | 280 | | | kg 400 - 4.2m |
| KCF4 | Kg | 1050 | 700 | 525 | 370 | | | kg 450 - 4.6m |
| KCF 4/S | Kg | 1000 | 670 | 500 | 410 | | | kg 400 - 5.1m |
| | | | | | | | |
| --- | --- | --- | --- | --- | --- | --- | --- |
| Specifications | | KCF 08 | KCF1 | KCF2 | KCF3 | KCF4 | KCF 4/S |
| Lenght of arm | m | 3.3 | 3.2 | 3.8 | 4.2 | 4.6 | 5.1 |
| Liftingmoment | kNm | 0.8 | 0.85 | 1.4 | 1.7 | 2.1 | 2.1 |
| Weight fork and rotator | kg | 45 | 60 | 60 | 60 | 90 | 60 |
| Rotation | ° | 360 | 360 | 360 | 360 | 360 | 360 |
| Rotation moment | daNm | 330 | 330 | 500 | 500 | 500 | 500 |
| Fork capacity | m2 | 0.08 | 0.08 | 0.08 | 0.08 | 0.12 | 0.12 |
| Weight without fork | kg | 170 | 220 | 270 | 310 | 370 | 170 |
| Weight with stabilizers | kg | 270 | 340 | 400 | 440 | 500 | 580 |
| Max flow | L/min | 10-20 | 20-25 | 20-25 | 20-25 | 20-30 | 20-30 |
| Pressure | bar | 180 | 180 | 180 | 180 | 180 | 180 |
Forest loader Series KCF/R

| | | | | | | | | | |
| --- | --- | --- | --- | --- | --- | --- | --- | --- | --- |
| Mod. | | A | B | C | D | E | F | T | L |
| KCF 07/R | mm | 1100 | 1600 | 1400 | 900 | 1300 | 750 | 500 | 3500 |
| KCF 08/R | mm | 1100 | 1700 | 1500 | 900 | 1300 | 800 | 600 | 3800 |
| KCF1/R | mm | 1400 | 1800 | 1500 | 900 | 1400 | 800 | 800 | 4200 |
| KCF2/R | mm | 1450 | 2000 | 1600 | 1100 | 1600 | 850 | 800 | 4400 |
| KCF3/R | mm | 1450 | 2000 | 1750 | 1100 | 1700 | 950 | 1000 | 4800 |
| KCF4/R | mm | 1500 | 2100 | 1850 | 1100 | 1800 | 950 | 1000 | 5000 |
Lift capacity:
| | | | | | | | | |
| --- | --- | --- | --- | --- | --- | --- | --- | --- |
| TIPO | | m.2 | m.3 | m.4 | m.5 | m.6 | m.7 | Max. |
| KCF 07/R | Kg | 420 | 300 | | | | | kg 280 - 3.5m |
| KCF 08/R | Kg | 420 | 300 | | | | | kg 260 - 3.8m |
| KCF1/R | Kg | 600 | 430 | 330 | | | | kg 320 - 4.2m |
| KCF2/R | Kg | 850 | 600 | 460 | | | | kg 430 - 4.4m |
| KCF3/R | Kg | 1100 | 800 | 610 | | | | kg 520 - 4.8m |
| KCF4/R | Kg | 1250 | 900 | 680 | | | | kg 560 - 5.0m |
| | | | | | | | |
| --- | --- | --- | --- | --- | --- | --- | --- |
| Specification | | KCF 07/R | KCF 08/R | KCF1/R | KCF2/R | KCF3/R | KCF4/R |
| Lenght of arm | m | 3.5 | 3.8 | 4.2 | 4.4 | 4.8 | 5.0 |
| Liftingmoment | KNm | 1000 | 1000 | 1400 | 1900 | 2600 | 2900 |
| Weight with stabilizers | Kg | 350 | 380 | 550 | 700 | 850 | 950 |
| Fork and rotator | Kg | 45 | 45 | 60 | 60 | 60 | 90 |
| Rotation | ° | 380 | 380 | 380 | 380 | 380 | 380 |
| Rotation moment | KNm | 2.1 | 2.1 | 3.3 | 5.0 | 5.0 | 5.0 |
| Fork capacity | m2 | 0.08 | 0.08 | 0.08 | 0.12 | 0.12 | 0.20 |
| Max flow | L/min | 10-20 | 10-20 | 20-25 | 20-25 | 20-25 | 20-30 |
| Pressure | bar | 180 | 180 | 180 | 180 | 180 | 180 |
Forest loader Series CF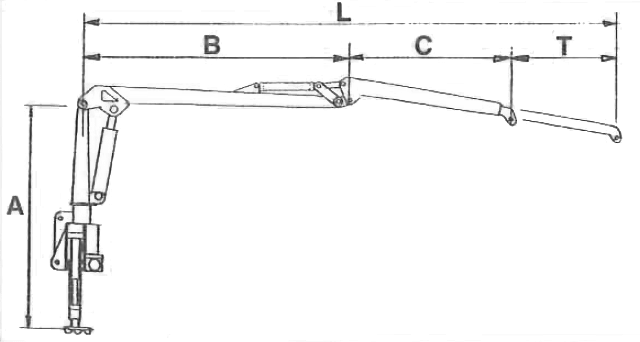 | | | | | | | | | | | | | | |
| --- | --- | --- | --- | --- | --- | --- | --- | --- | --- | --- | --- | --- | --- |
| SPECIFICATIONS | | CF 2 | CF 2T | CF 3 | CF3T | CF 4 | CF 4T | CF 5 | CF 5T | CF 7 | CF 7T | CF 10 T | CF 12 T |
| Llenght of arm | m | 3.5 | 4.3 | 3.8 | 4.6 | 4.5 | 5.5 | 4.5 | 5.5 | 5.2 | 6.6 | 6.6 | 6.6 |
| Liftingmoment | kNm | 13 | 13 | 15 | 15 | 20 | 20 | 28 | 28 | 35 | 35 | 50 | 60 |
| Weight fork and rotator | kg | 70 | 70 | 90 | 90 | 90 | 90 | 130 | 130 | 130 | 130 | 190 | 190 |
| Rotation | ° | 360 | 360 | 360 | 360 | 360 | 360 | 360 | 360 | 360 | 360 | 360 | 360 |
| Rotation moment | daNm | 500 | 500 | 500 | 500 | 500 | 500 | 700 | 700 | 900 | 900 | 1400 | 1600 |
| Fork capacity | m2 | 0.15 | 0.15 | 0.5 | 0.5 | 0.2 | 0.2 | 0.2 | 0.5 | 0.25 | 0.25 | 0.25 | 0.25 |
| Weight without fotk | kg | 450 | 480 | 630 | 640 | 630 | 730 | 940 | 1020 | 1200 | 1400 | 1650 | 1700 |
| Max flow | l/min | 20-25 | 20-25 | 20-25 | 20-25 | 20-30 | 20-30 | 20-40 | 20-40 | 30-40 | 30-40 | 35-50 | 40-50 |
| Pressure | bar | 170 | 170 | 170 | 170 | 170 | 170 | 170 | 170 | 170 | 170 | 170 | 170 |
| | | | | | |
| --- | --- | --- | --- | --- | --- |
| Mod | A | B | C | T | L |
| CF 2 | 2400 | 2000 | 1400 | - | 3400 |
| CF 2T | 2400 | 2000 | 1400 | 800 | 4200 |
| CF 3 | 2400 | 2200 | 1600 | - | 3800 |
| CF 3T | 2600 | 2200 | 1600 | 800 | 4600 |
| CF 4 | 2600 | 2800 | 1700 | - | 4500 |
| CF 4T | 2600 | 2800 | 1700 | 1000 | 5500 |
| CF 5 | 2700 | 2800 | 1700 | - | 4500 |
| CF 5T | 2700 | 2800 | 1700 | 1000 | 5500 |
| CF 7 | 2900 | 3100 | 2100 | - | 5200 |
| CF 7T | 2900 | 3100 | 2100 | 1400 | 6600 |
| CF 10T | 2900 | 3100 | 2100 | 1400 | 6600 |
| CF 12T | 3000 | 3100 | 2100 | 1400 | 6600 |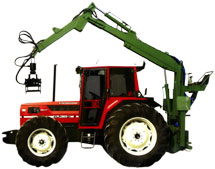 Forest loader Series CF/R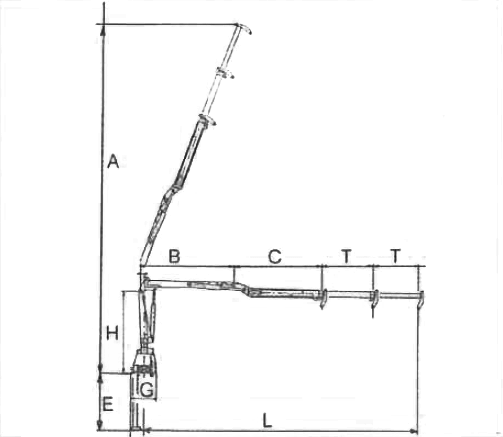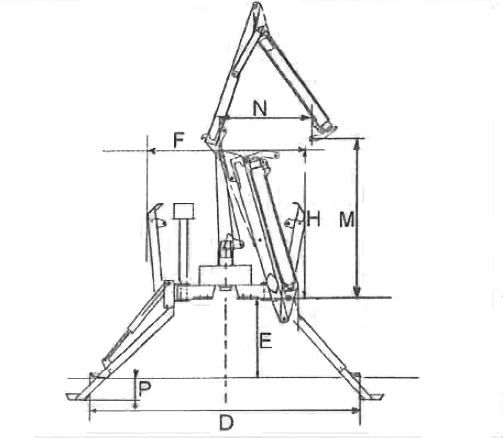 | | | | | | | |
| --- | --- | --- | --- | --- | --- | --- |
| SPECIFICATIONS | | CF 3R | CF 4R | CF 5R | CF 7R | CF 10R |
| Lenght of arm | m | 4.9 | 5.2 | 5.5 | 6.1 | 6.5 |
| Liftingmoment | kNm | 15 | 20 | 28 | 35 | 50 |
| Weight fork and rotator | kg | 80 | 80 | 100 | 110 | 130 |
| Rotation | ° | 360 | 360 | 360 | 360 | 360 |
| Rotation moment | daNm | 500 | 500 | 700 | 900 | 1600 |
| Fork capacity | m2 | 0.20 | 2.20 | 0.20 | 0.25 | 0.25 |
| Weight without fork | kg | 800 | 900 | 1100 | 1300 | 1500 |
| Max flow | l/min | 20-25 | 20-30 | 20-40 | 30-40 | 50 |
| Pressure | bar | 170 | 170 | 170 | 170 | 170 |
| Max capacity | kg | 240 | 260 | 400 | 480 | 550 |
| | | | | | |
| --- | --- | --- | --- | --- | --- |
| | CF 3R | CF 4R | CF 5R | CF 7R | CF 10R |
| A | 5750 | 6000 | 6500 | 7300 | 9000 |
| B | 2100 | 2200 | 2300 | 2500 | 2750 |
| C | 1800 | 1900 | 2100 | 2300 | 2500 |
| D | 2500 | 2800 | 3200 | 3500 | 4000 |
| E | 800 | 800 | 800 | 800 | 1400 |
| F | 1600 | 1800 | 2000 | 2000 | 2400 |
| G | 400 | 440 | 470 | 520 | 700 |
| H | 1850 | 1900 | 2000 | 2200 | 2250 |
| L | 4900 | 5200 | 5500 | 6100 | 6750 |
| M | 1600 | 1900 | 2000 | 2300 | 2250 |
| N | 1000 | 1000 | 1000 | 1000 | 1500 |
| T | 1000 | 1100 | 1100 | 1300 | 1500 |